Guide to Teaching Puzzle-based Learning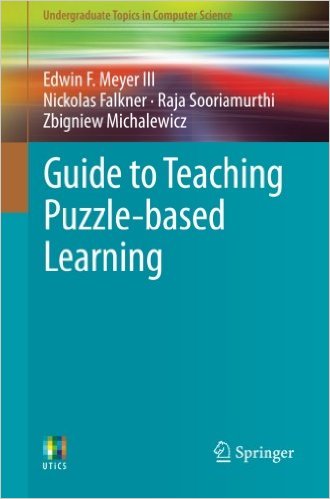 This book provides insights drawn from the authors' extensive experience in teaching Puzzle-based Learning. Practical advice is provided for teachers and lecturers evaluating a range of different formats for varying class sizes.
Features: suggests numerous entertaining puzzles designed to motivate students to think about framing and solving unstructured problems; discusses models for student engagement, setting up puzzle clubs, hosting a puzzle competition, and warm-up activities; presents an overview of effective teaching approaches used in Puzzle-based Learning, covering a variety of class activities, assignment settings and assessment strategies; examines the issues involved in framing a problem and reviews a range of problem-solving strategies; contains tips for teachers and notes on common student pitfalls throughout the text; provides a collection of puzzle sets for use during a Puzzle-based Learning event, including puzzles that require probabilistic reasoning, and logic and geometry puzzles.
"The book's approach is to present many problems, and for each one, discuss how to present it to students and how to help them learn in the course of working on it. … this book does a very nice job of bringing together an impressive collection of puzzles and presenting them to teachers in a manner that supports their use in an undergraduate classroom."
            (S. L. Tanimoto, Computing Reviews, November, 2014)
This unique textbook/guide will be of great interest to instructors on all levels who wish to experiment with the Puzzle-based Learning approach. This approach has been successfully applied in universities, high schools, professional organizations and leading companies.